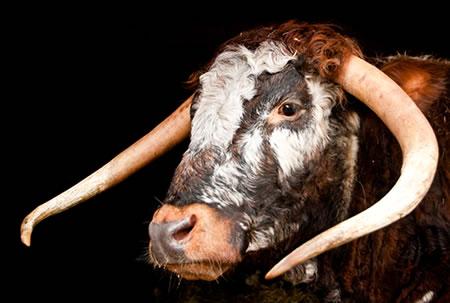 Our Longhorn cow Says…
Mooooooo! Pleased to meet you, I'm a longhorn cow, and I'm pretty sure you haven't seen many of me before. That's because in this country there are very few of us left, though we are popular in America. The RSPB would like a small herd of us to graze on one of their nature reserves, which will allow wildflowers to grow and provide nest sites for many animals and birds such as lapwings and skylarks. If you could sponsor me you would help to pay my vets bills and food so that I can be part of creating a beautiful British landscape that will flourish with new inhabitants.

udopt and receive
A beautiful personalised gift card.
The knowledge that you are not only helping care for this iconic cow, but also helping to nuture a new nature reserve that will be enjoyed by many generations to come.
udopt'r choice
Longhorn cattle are used to extreme climates, and can find food or shelter during tough times, and can breed well into their teens. A longhorn cow are calm animals and will often find a safe place to give birth to a calf then bring it home. They are sociable animals who like to spend time in herds with their friends and family. When they all get to together they can be quite noisy!
udopt it because
Longhorn cows are quite a rare breed in the UK, due to the preference for the more common shorthorn.
By sponsoring a longhorn cow, you will be helping the RSPB to nurture a stunning new nature reserve in the West Midlands.
An ideal gift for a child who is interested in animals and nature.
This animal sponsorship program is just £40 in a one off payment.
Sponsor a Longhorn Cow Gallery
Did you know?
They first originated in the North West and were created by inbreeding techniques by Robert Bakewell way back in the 1700's.
The longhorn is still the symbol for farming of yesteryear and are still very popular in America.
 Their horns can extend to a massive 7 feet from tip to tip, that's bigger than most humans!
 Longhorn calves are very strong and can stand up sooner after birth than other breeds.